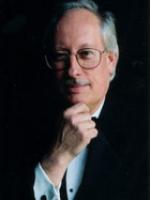 Theory, Wind Ensemble, Oboe, Director of Bands
David Diggs came to Lehigh University in 1998 following a successful career as a freelance woodwind specialist in New York City, where he performed on oboe and English horn, clarinets, flutes, saxophones and recorders.  He has performed with the NYC Ballet Orchestra, the NY Philharmonic, the Moiseyev Russian Ballet and in numerous Broadway shows.  As a recording musician he has made over 1000 recordings for radio and TV commercials, sound tracks for movies and TV shows, and records.  He earned his bachelor's degree in music theory from Oklahoma City University and his master's degree in performance from SUNY at Stony Brook.  As an oboist he has appeared as soloist with such noted personalities as Frank Sinatra, Tony Bennett, Johnny Mathis, and Isaac Hayes.  He toured with Ransom Wilson's Virtuosi Wind Quintet under Columbia Artists' auspice.
At Lehigh David teaches harmony and oboe, and performs with the East Winds Quintet.  As the Director of Bands, he conducts the Symphonic Band and The Wind Ensemble, and oversees The Marching 97.  Under his direction The Wind Ensemble at Lehigh University has received several grants to record American music, and the Ensemble has also been recognized by Downbeat Magazine with its award for the "Most Outstanding College Classical Symphonic Ensemble" in its 22nd Student Music Awards.
 David has become internationally recognized for his research of the band music of the American Civil War era and the music of the English Foot Guards bands of the late eighteenth century.  He has been the producer for several recordings of Civil War band music performed on original instruments.   For the eighteenth century regimental band of HM Coldstream Guards, he prepared performing editions and played on the historic recordings issued under the title "Royal Heritage Collection."
He was elected as an Honorary Member to the Royal Society of Musicians of Great Britain, and has been presented to HM Queen Elizabeth II at Windsor Castle.