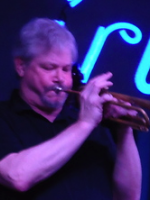 Jazz Ensembles, Jazz History
A dynamic and innovative composer, bandleader and trumpeter, Bill Warfield has energized audiences, performers and writers for more than four decades. Warfield's most recent accomplishments are two highly regarded recordings including "Mercy Mercy Mercy", recorded on the BluJazz label by the Hell's Kitchen Funk Orchestra in 2015 and "Trumpet Story" with Randy Brecker on Planet Arts Records, recorded in 2014. These recordings are a celebration of the composer's formative musical experiences.  The two groups perform Jazz selections based on the genres of funk, Latin Jazz, and Hard Bop, all arranged by Warfield.  
He holds an M.M. in Jazz Commercial Trumpet Performance from the Manhattan School of Music where he received the William H. Borden Award for Outstanding Accomplishment in Jazz/Commercial Music, The Carmine Caruso Award for Outstanding Musicality and Trumpet Performance and the Maynard Ferguson Scholarship. In 1990 he participated in the BMI Jazz Composers Workshop, directed by Bob Brookmeyer and Manny Albam.
Bill started playing the trumpet at age 11 in the Baltimore County public school system. After a few years he began playing with R & B and soul bands locally at about 14. His trumpet teacher, Fred Frey, took him to a concert at the Lyric Theater by the Maryland Youth Symphony Orchestra. After hearing the group, Bill auditioned for it and was accepted.  The Youth Orchestra rehearsed downtown Baltimore in the afternoons so Bill spent his Saturday mornings studying "up the street" at the Peabody Conservatory Preparatory School.
He entered Peabody Conservatory in 1970, but left after one semester because he heard a college Jazz group under the direction of Hank Levy.  He enrolled at Towson State College and studied with Hank, spending four years as a featured soloist with the ensemble. The winner of the outstanding Trumpet Player Award at the Quinnipiac College Jazz Festival in 1973, Bill decided that a career as a Jazz Trumpeter was what he wanted. He began frequenting the Jazz clubs in downtown Baltimore and began immersing himself in the local jazz scene, performing regularly with musicians such as Sonny Stitt, Mickey Fields, Jimmy Wells and Charles Covington.
Bill left Towson in 1975, but returned to record as a featured soloist with the Towson Band on their Music Minus One recording 2 + 2 = 5. His feature solo on Levy's composition "Stillness Runs Deep" was chosen by the National Association of Jazz Educators as one of the top college Jazz recordings that year and can be heard on "Project One",  a collection of top college recordings that year. After a few years of performing with local touring bands, Bill was hired by the City of Baltimore to perform and eventually direct the Port City Jazz Ensemble. He used the time with "Port City" to practice, save, and prepare to move to New York.
In 1980, Bill Warfield moved to New York City.  He performed in wedding bands, salsa bands, and emerging jazz groups.  Perhaps the most important associations in that first year in the Apple were subbing in the Mel Lewis Jazz Orchestra on Monday nights at the Village Vanguard, co-founding the Bill Kirchner Nonet with Reedman Bill Kirchner and his membership in MOBI (Musicians of the Brooklyn Initiative), a group founded by Cecil Taylor, Lester Bowie, and Joseph Jarman.
During these years, Bill was a contributing writer and lead trumpeter in the Bill Kirchner Nonet and appeared on the first two recordings on the Seabreeze label, What It Is To Be Frank, 1981, and Infant Eyes, 1983.  A third recording from this group One Starry Night was from a live radio broadcast from the Chicago Jazz Festival in 1987 and featured Sheila Jordan (It was subsequently released in 2010 by Kirchner). Other associations at this time included a World Tour with Paul Anka in 1982,  and a job as first trumpeter at the Cable Beach Casino in the Bahamas in 1983 and 1984.. He continued to develop as a composer and Jazz trumpet player and spent 1982 studying with the great lead trumpet player, Jimmie Maxwell.
After the gig in the Bahamas, Bill returned to New York City and took a few years off to work on Wall street and save some money to do his first big band recording "New York City Jazz" on Interplay Records in 1990. 
New York City Jazz came out in 1990 to much critical acclaim.  In 1992, Bill was hired to arrange and conduct Hollywood Jazz, a show commissioned the year of the 1992 by the Spanish government to celebrate the Olympic Games in Barcelona and Valencia, Spain.  The recording was released that same year.
1994 marked the release of Bill Warfield's second big band recording, The City Never Sleeps on SeaBreeze Records also to much critical acclaim. Featured on the recording were up and coming artists such as Dave Stryker, Chris Potter, Rich Perry, Conrad Herwig, Walt Weiskopf and Andy Fusco complementing an ensemble which featured such veterans as Lew Soloff, Bob Millikan and John Eckert.  A recommendation by Lew Soloff led to Bill performing with Ornette Coleman and Japanese Jazz Vocalist Mari Okubo during the years 1992 through 1994..
Teaching had become an important part of Bill's life, and in 1996, he traded part time positions at the Dalton School in New York, Brooklyn College, and Towson University for his first full time position at the University of North Florida, where he met and worked with alto saxophonist Bunky Greene.  After a year at UNF, Bill accepted his current position at Lehigh University, where he teaches and directs the Jazz program.  
During these years, Bill arranged and recorded for Dave Stryker (1995 Nomad on Steeplechase Records), Dave Liebman, Le Jazz Hot, 1997 (released in 2010 on Planet Arts) and Beyond the Line, 2003 Omnitone Records, Gene Ludwig, Live at Zoellner, (2002 released on 18th and Vine Records).
Bill's own recordings include Song of Storyville, (2001 unreleased), Hard Bop, 2003, Sambra, 2005, and A Faceless Place, 2006, all on Laurel Hill Records.  He also recorded, A Window that Shows Me the Moon (2012), and Trumpet Story featuring Randy Brecker (2014), both on Planet Arts Network.  
Besides Mercy Mercy Mercy,  and Trumpet Story, his recent work also includes collaborations with Jazz/Funk/Blues vocalist Nicole Henry. In addition to his professional schedule, Bill directs the Jazz program at Lehigh University, directs the New York Jazz Repertory Ensemble, The New York Jazz Octet and the Hell's Kitchen Funk Orchestra. He appears regularly at Iridium, Dizzy's Jazz Club in NYC, The Garage and many other clubs in the greater New York area. He frequently performs and teaches in Europe in addition to writing commissioned works for various conservatories and radio orchestra around the world.
Bill's varied career as a player has led to associations with artists as varied as Sonny Stitt, Paul Anka, The Baltimore Symphony Orchestra, Mel Torme, The Spinners, Sheila Jordan, Jon Faddis, The Gil Evans Orchestra, Mel Lewis, Ornette Coleman, Lester Bowie, Lee Konitz, The Yellow Jackets, Don Braden, Eddie Palmieri, Buddy DeFranco, Randy Brecker and The Berlin Radio Orchestra among many others. Bill is listed in the Biographical Encyclopedia of Jazz by Ira Gitler and Leonard Feather and the online Biographical Jazz listings by Lewis Porter.