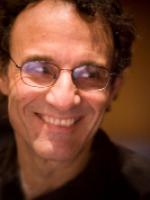 Theory, Composition, Music History, Contemporary Ensembles
B.A. Amherst; M.A., Ph.D. Harvard
Composer Paul Salerni is the NEH Distinguished Chair in the Humanities and Professor of Music at Lehigh University, where he teaches composition, theory, and directs the Lehigh University Very Modern Ensemble (LUVME). He is also founder and Artistic Director of the Monocacy Chamber Orchestra, a professional ensemble in the Lehigh Valley.
Salerni received his Ph.D. in composition from Harvard University, where he studied with Earl Kim. He has held composition fellowships from the Sheldon Foundation, the Charles Ives Festival, and the Pennsylvania Council for the Arts, and has been the recipient of grants from Meet the Composer and the NEA.
Salerni's numerous commissioned orchestral and chamber music works have been performed throughout the US, Canada, Europe and China. Recent commissions include Cape Cod Symphony, San Diego Chamber Orchestra, New Haven Symphony, the Allentown Symphony, and the Lehigh Valley Chamber Orchestra. His chamber music and songs are also widely performed. Recent highlights included performances by the Da Capo Chamber Players of two song cycles, Speaking of Love and Bad Pets, at New York City's Merkin Hall.
Salerni's one-act opera Tony Caruso's Final Broadcast, with a libretto by Dana Gioia, won the National Opera Association's Chamber Opera competition. A definitive recording was recently released on Naxos. His second one-act, The Life and Love of Joe Coogan, is adapted from a Dick Van Dyke TV Show episode. The original screenplay was written by Carl Reiner and adapted by librettist Kate Light. Joe Coogan had its premiere in September 2010.  Both one-acts are published by Theodore Presser.
A dedicated educator, Salerni is recipient of the Stabler Award, Lehigh University's most valued acknowledgement of excellence in teaching. His service to the larger community has also included participation on Fulbright Fellowship and NEA peer review panels and seven years' service on the Board of Directors of the Suzuki Association of the Americas, including two years as Chair of the Board.
Salerni is married to opera and stage director Laura Johnson, and also often writes for and performs with their two sons, violinist Domenic and percussionist Miles.