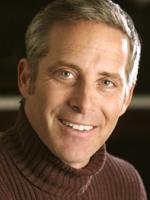 University Choir Co-Director, Choral Union, Glee Club, Conducting, Theo
B.A. Yale; M.M., D.M.A. University of Wisconsin
Steven Sametz has earned increasing renown in recent years as both composer and conductor. He is the Ronald J. Ulrich Professor of Music and director of Lehigh University Choral Arts, one of the country's premiere choral programs. He also serves as Artistic Director for the elite a cappella ensemble, The Princeton Singers and is the founding director of The Lehigh University Choral Composer Forum, a summer course of study designed to mentor emerging choral composers.
Recent guest conducting appearances include the Taipei Philharmonic Foundation, the Berkshire Music Festival, the New York Chamber Symphony, and the Netherlands Radio Choir.  Dr. Sametz' compositions have been heard throughout the world at the Tanglewood, Ravinia, Salzburg,  Schleswig-Holstein, and Santa Fe music festivals. His in time of appears on the recent Grammy award-winning CD by Chanticleer, "Colors of Love," and his work may be heard on six other Chanticleer CDs, as well as Lehigh University Choir's "Live from Taipei," Lehigh University Choral Arts' "What Wondrous Love is This," The Princeton Singers' "Reincarnations," "Christmas with the Princeton Singers," and "Old, New Borrowed, Blues," a collection of his choral arrangements and compositions featuring guest artists Chanticleer in collaboration with The Princeton Singers performing his Dudaryku — A Village Scene, written for these two groups.
Most recently, Dr. Sametz conducted the Princeton Singers at the American Choral Directors' Association convention in Pittsburgh as well as at the American Organists Guild convention in Philadelphia.
Dr. Sametz has received commissions from the National Endowment for the Arts, the Connecticut Council on the Arts, and the Santa Fe music festival, creating new works for Chanticleer, the Dale Warland Singers, Philadelphia Singers, Pro Arte Chamber Choir, the Santa Fe Desert Chorale, Connecticut Choral Artists, and the King of Thailand.  His compositions are published by Oxford University Press, Alliance Music, ECS Publishing, GIA, and Steven Sametz Publications.
Dr. Sametz holds degrees from Yale University, the University of Wisconsin-Madison, and the Hochschule für Musik und darstellende Kunst in Frankfurt, Germany.